If you're a parent who wants a well-adapted child, you're in the right place.
Are you a parent who wants the best for your child, not just academically, but also socially, emotionally and creatively? 
We have created customised programmes for small groups of children to foster their love of learning and curiosity in creating, so that your child develops holistically.
These camps and workshops are designed to keep your child engaged through storytelling, craft and a line-up of specially curated hands-on activities that range from craft to baking.
Suitable for children aged between four and ten years old, each interactive workshop is centered around a key theme and invites your child to learn about real-world facts as they delve into imaginary worlds.
With only four to eight children in each 3-hour session, your child gets lots of our attention and can fully explore in a fun and safe environment.
Face-to-face workshops are currently on hold due to the global situation. Stay tuned for virtual workshops coming your way!
Sign up for our newsletter to be the first to know once these are released!
How These Workshops Develop Your Child: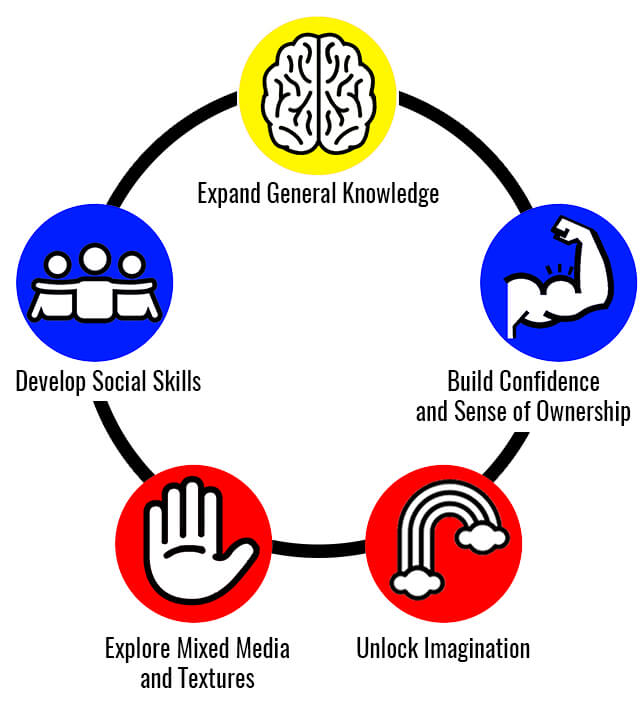 1. Expand General Knowledge: Ah, the adage "knowledge is power" holds true. Your child will be exposed to factual and historical information about the theme through visuals and non-fiction books. This helps your child link the story to real world knowledge.
2. Build Confidence and Sense of Ownership: Your child is bursting with opinions and facts and we want to hear them! Your child's sharing are written and posted to the group blackboard, so she gets physical affirmation of her contribution to the conversation. This encourages participation and builds confidence.
3. Unlock Imagination:  Your child is invited a journey through pictures, voices and actions through story acting and role-playing. 
4. Explore Mixed Media and Textures: Your child is encouraged to get his hands dirty, be it with dough or glue! We carefully choose a variety of safe materials to let your child experiment with. These encourage your child's motor skills and senses, especially touch.
5. Develop Social Skills: Your child will be in paired and group activities to encourage articulation, communication and mutual learning, guided by us, of course